LEE ENGLAND JR. IS THE FIRST NON-ATHLETE SIGNED TO
"

Lee Is The Future of Music " - Quincy Jones
BIOGRAPHY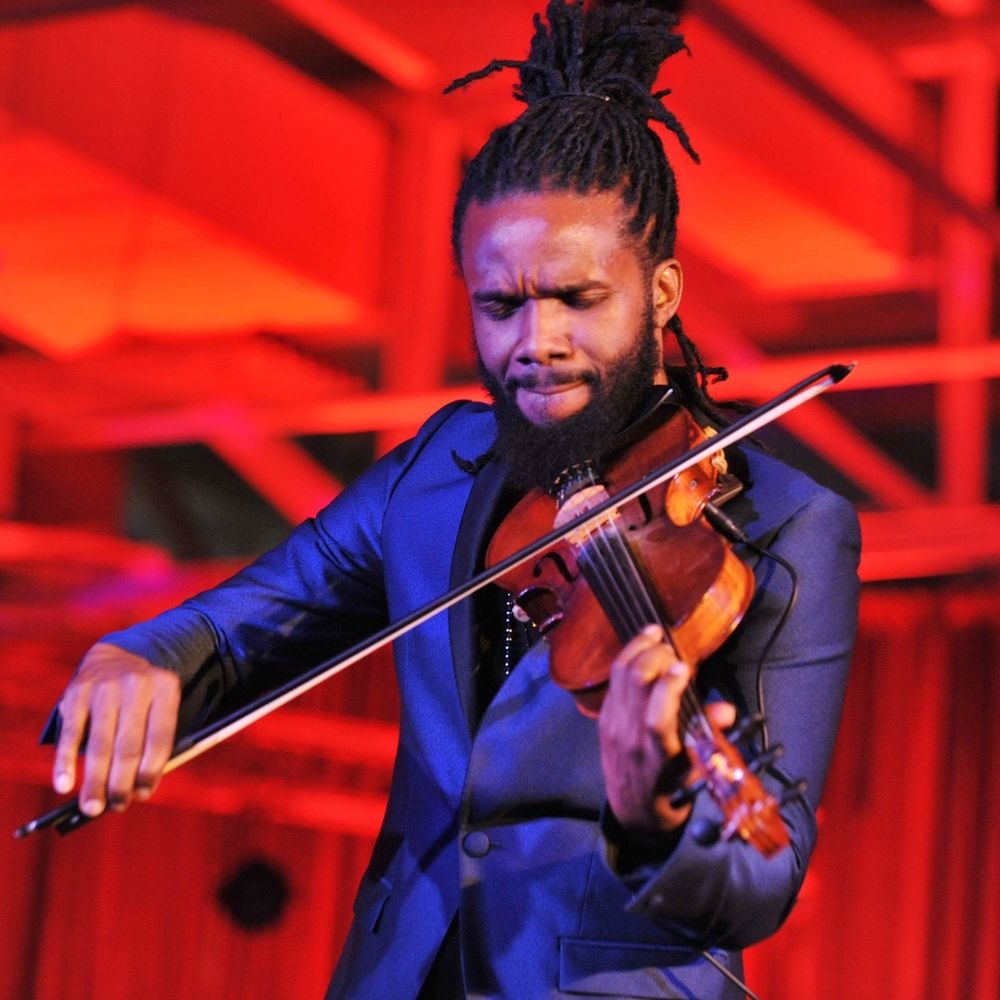 Lee England Jr.
"The Soul Violinist"
Lee England Jr., an Illinois native, is a classically trained violinist and composer who makes the extraordinary seem simple. With a firm grasp on his artistic approach, he molds and shapes songs into an expression of virtuosity that has earned him the name, "The Soul Violinist." His heartfelt sound evokes emotion and captures the ear immediately. 
In his hometown of Waukegan, he was exposed to the violin at the age of 6. After many years of study, he earned three music degrees (BS -Music Ed, BS -Audio Engineering, BA -Violin Performance) from Southern Illinois University.  His passion for music, technical grasp and discipline made it possible for England to add viola, cello, bass, guitar, drums, piano and voice to his production resume.
At the age 25, Lee found himself performing alongside Stevie Wonder. That same year, he made it on the MTV show Making the Band where Sean "Diddy: Combs named Lee, "The band's secret weapon". With that exposure his fame and acclaim began to soar. It's no surprise that Lee would attract the attention of legendary music producer, Quincy Jones. After hearing him play once, he was signed to Jones' management company, "Quincy Jones Productions."   
After a performance for Michael Jordan's birthday. Lee was offered an endorsement deal from Jordan Brand to support his artistic endeavors. This partnership made him the first non-athlete and violinist to earn such acclaim. England became a popular entertainer for a variety of athletic events. Ranging from basketball camp to shoe releases and charity events for LeBron James, Chris Paul and Dwayne Wade. Not to mention an impressive count of halftime shows in 26 NBA arenas. 
"

Lee England Jr. is the Micheal Jordan of Violin" - Micheal Jordan
The WWE caught wind of England's skills and asked him to team up with Super Star wrestler Shinsuke Nakamura. They went on to create what is indisputably known as, "The Most Memorable Wrestling Ring Entrances of All Time." 27 million Youtube views later and the duo is still stunning crowds, most recently in Japan on January 1, 2023 already at 1 Million Views on Youtube.   
Throughout Lee's has performed for countless A-List Celebrities such as Beyoncé, Bono, George Lucas and Elton John. He continually shares the stage with the likes of Lauren Hill, Babyface, Ludacris, Omari Hardwick and Alicia Keys. Lee is also a staple performer for a long list of international charitable foundations such as Make-A-Wish and UNICEF.  
As a producer, arranger and composer, Lee has recorded strings for Chris Browns, Jason Derulo, Jon Batiste and several TV networks. Most notably, the NFL commissioned England to create the soundtrack for, and star in, a Super Bowl XLVll commercial . This dynamic ability to create and perform has welcomed his talent both on and off the stage.  
England now resides in New York spending his time creating soundtracks, building his orchestra,  "The B.R.I.D.E"  and collaborating with an array of artists. He finished the 4th Quarter of 2022 with a "For Your Consideration" campaign for his single "Beyond." A self-penned and produced track, with strong symphonic sweeps and African percussion pulsating across quasi-house beats. With a finished album, "A Guide Book For A Gentleman" soon to be released . 
"

THE BANDS SECRET WEAPON" - SEAN "DIDDY" COMBS
Performance Bio
 NOAH Japan Pro-Wrestling Show 
Lincoln Center - Biggie Smalls Tribute 
Unreasonable Conversations w/Proper Daily 
Cleveland Browns Monday Night Football 
Click Up - Level Up Concert 
iHeart Radio Awards Show Performance w/Alicia Keys 
Chris Paul Celebrity Server's Foundation 
WWE NXT Shinsuke Nakamura 
Backstage at The Geffen House 
Quincy Jones Presents Lee England Jr 
BONO One Foundation 
Ben Affleck's- Celebrity Poker tournament 
Rihanna's Diamond Ball 
Coco Cola's Essence Festival 
John Wayne Cancer Institute Gala 
BET experience 
Dwanyne Wade World Charity Gala 
Stedman Graham's Athletes Against Drugs Gala 
The Gayle King Radio Show 
The National Ubran League Gala 
Akira and Immerman Angels Gala 
The Vail Soul Music Fest 
Make A Wish Foundation Gala 
ASCAP Rhythm and Soul Awards 
The Jordan Brand Classic 
The NBA Charlotte Bobcats Gala 
Bernie Mac Foundation Gala 
Hope For Hati 
The Trumpet Awards 
The Nba Portland Blazers Halftime 
The Nba Chicago Bulls Halftime 
The Nba New Orleans Hornets Halftime 
The MLS Chicago Fire 
The Nba Orlando Magic Halftime 
The WNBA Washington Mystics Halftime 
Miller/Coors Gala 
Chris Paul Shoe Release 
Jesse Jackson Birthday Gala 
Operation Push w/Stevie wonder 
Micheal Jordan Birthday party 
Texas Black Legislature 
NAACP Image Awards Gala 
LeBron James Skills Academy 
Lake Forest College 
Villanova University 
The Jimmy Kimmel show w/Mimms 
MTV's Diddys Making His Band 
Black Womens Expo Gala
lees social stats